The Best Bag for the Disney Parks
While visiting Disney Parks, you may want to show off your favorite Disney character, while still being practical. The brand Loungefly is perfect to carry your park essentials throughout the parks. The bags can help with Disney bounding, or just show off your favorite character.
Loungefly creates bags that are perfect for every fandom, from Disney princesses to Marvel (and even sports teams)! No matter what fandom you find yourself in, Loungefly has you covered. After time, you can find yourself collecting all the different designs!
The Mini Backpacks
The most notable bags that Loungefly offers are their mini backpacks. These bags are the perfect size for holding your wallet, water bottle, sunglasses, and anything else needed for the perfect day in the parks.
Recently, Loungefly has started adding ways to hold your Mickey ears on the bag. This addition is great for rides where you don't want them falling off!
Here are some of the different kinds of Loungefly backpacks:
Disney Parks Chibi Loungefly Mini Backpack
This Loungefly bag shows off different Disney Park symbols, from the teacups to a pirate head. As a Disney Park lover, this bag is great for including different icons from the parks.
Click here to buy.
Classic Minnie Mouse
Sometimes you just want to go back to the original Disney characters. This bag shows off Minnie's signature look, complete with sequin and of course, the bow!
Click here to buy
Crossbody Bags
Aside from the mini backpacks, Loungefly also has crossbody bags for sale. These bags are great if you are not a fan of the backpacks, but still want to show off your favorite character.
Peter Pan Book
Some of the crossbody bags are designed as books from different Disney movies. As a book lover, I love seeing the different Disney classic books transformed into bags.
The outside of the Peter Pan crossbody bag has a picture of the Darling children, Peter Pan, and Tinkerbell flying through the sky. You can 'open' the bag (without opening the zippers where you can store your belongings) and read part of the story!
Click here to buy
Mickey Ears
Along with the bags, some of the bags come with matching ears. If you enjoy matching your park outfits, then the ears and bags will be a great combo!
Here are some Loungefly ears:
Disney100 Ears
For Disney's 100th anniversary, Loungefly has released new ears and backpacks with a special print. On the ears, you can find iconic characters like Mickey, Minnie, and Tinkerbell!
Click here to buy
Animal Print Ears
These ears are great for a day in Animal Kingdom!
Click here to buy
Sketchbook Ears
If you love arts and crafts, then Loungefly has the perfect ears for you! The bow has art supplies, with Mickey and Minnie on the ears.
Click here to buy
Seasonal Bags
Last but not least, Loungefly has seasonal bags! They have bags for many holidays, like Halloween and Christmas. Loungefly also has bags for special occasions, like your wedding and your birthday!
Here are some seasonal bags!
Cinderella Happily Ever After
If you are getting married soon (or just love Cinderella and Prince Charming), then this bag is fit for the occasion! The bag shows Cinderella and Prince Charming riding away with the castle in the background
Click here to buy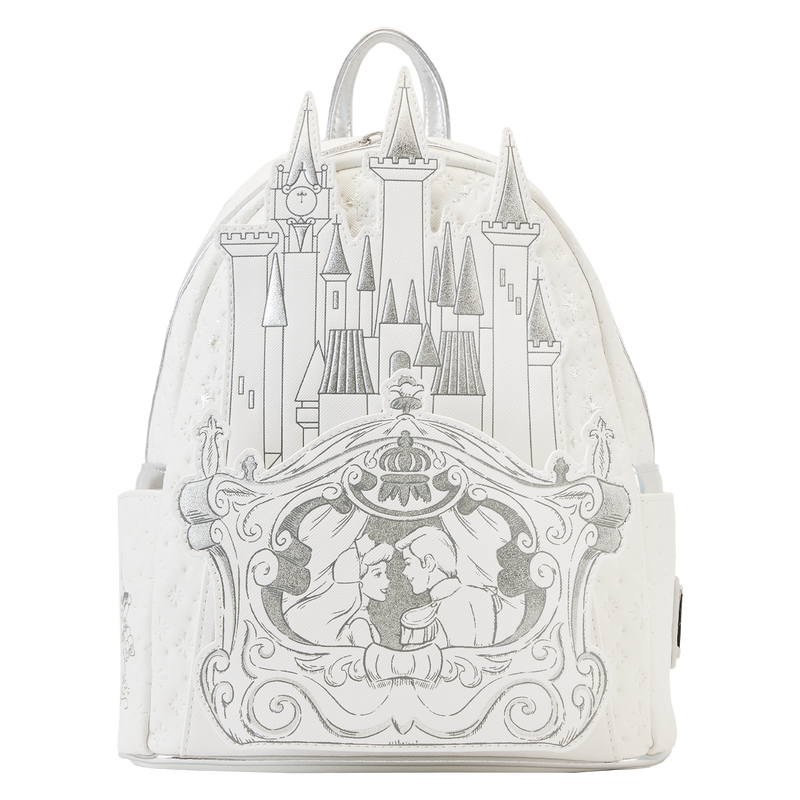 Fall Sequin Backpack
This bag has sequins with all of the fall colors. It is topped off by a bow with fall leaves.
Click here to buy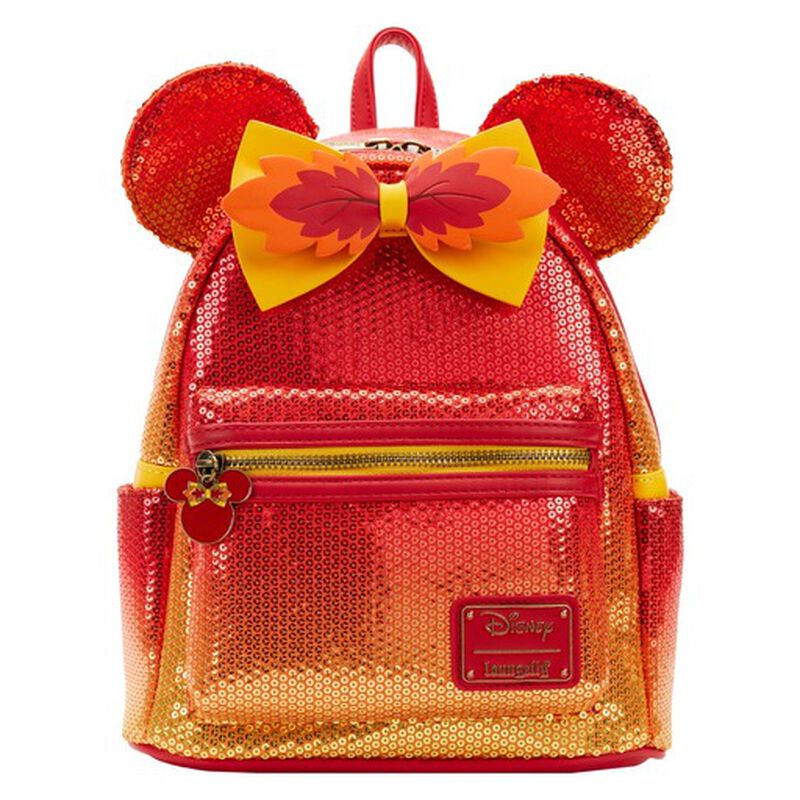 My Personal Favorite
If you can not tell by now, I love Disney Loungefly bags. After collecting many of the bags, I have some bags that I lean towards more than others. Here is my favorite Disney Loungefly bag:
Princess Book Backpack
My favorite Loungefly bag has different princess storybooks as the pattern. The front pocket shows the spine of some Princess stories, like Tangled and Aladdin!
Click here to buy
When visiting Disney Parks, it is important to have a bag to carry all your necessities. Loungefly bags are great for showing off your favorite Disney character and are not too big to carry around the park.